On September 8, when the 21st China International Fair for Investment and Trade in 2021 was grandly opened at the Xiamen International Convention and Exhibition Center, from the booth of Xiamen XGMA Machinery Co., Ltd (hereinafter referred to as "XGMA"), a member company of Xiamen Haiyi Group Good news: XGMA and JD.com hold an industrial digital intelligence upgrade cooperation officially launched!
This marks another step towards a more comprehensive and in-depth cooperation between XGMA and JD.com in the field of industrial product Internet platforms. It will also be a key step for the large-scale construction machinery manufacturing industry to realize digitalization, networking and intelligence.
The Xiamen Municipal Government, the Bureau of Commerce, the Organizing Committee of the China International Investment and Trade Fair and other government departments, leaders and guests from the organizer came to guide and witness the ceremony.
Sun Zhixiang, vice president of JD Group, Liu Donglin, chairman of Xiamen Haiyi Group, and Lin Chunming, president of XGMA, attended the launching ceremony.
Let's take a look at the XGMA exhibition hall and the ceremony site!
Ceremony scene
In recent years, the country has clearly put innovation in the first place, and must use technological innovation and digital transformation to generate new development momentum and focus on the development of the real economy.
XGMA is a representative national independent national brand of construction machinery with a long history, deep technology precipitation, and extensive market foundation in the construction machinery industry in my country. So far, it has worked hard in the real economy for 70 years.
A month ago, XGMA and JD.com joined hands for the first time in industrial digital cooperation.
XGMA loaders, excavators and other series of main products successfully entered the JD platform, and XGMA JD's self-operated flagship store was officially launched for trial operation.
This is a very typical demonstration of cooperation and has a good benchmarking significance for cross-border cooperation.
Speech by Lin Chunming, President of XGMA
Lin Chunming, President of XGMA shares, said: "JD is my country's leading integrated e-commerce platform, with rich experience in the B2B field and a mature supply chain system. XGMA shares and JD Group have upgraded their cooperation in industrial digital intelligence and actively practice The national digital economy industrial policy will join hands to step into the in-depth area of industrial digital intelligence.
This is XGMA, which has experienced 70 years of ups and downs in the field of construction machinery, seeks innovation and changes, actively accelerates iteration, and explores an upgraded version of the industrial digitalization field with Jingdong Group, a well-known industrial enterprise full-link digital integrated solution provider in China. . "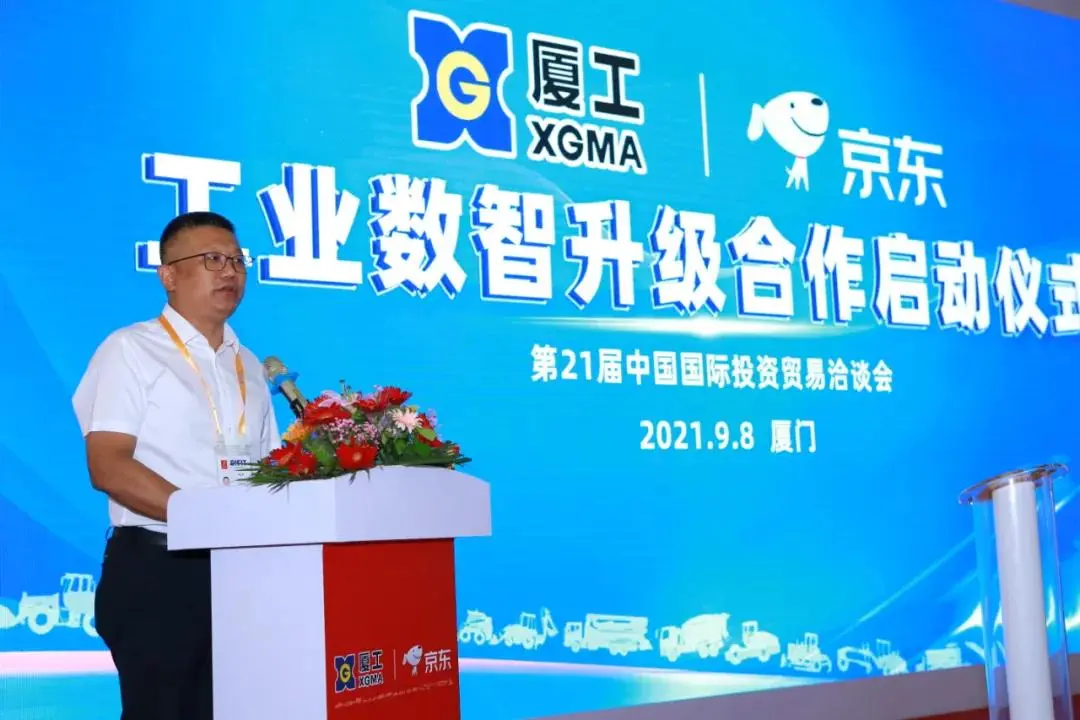 Speech by Sun Zhixiang, Vice President of JD Group
Sun Zhixiang, vice president of JD.com, said that the strategic partnership between the two parties is the first in the industry. It has enriched the product line of JD.com's platform, improved the entire supply chain system of JD.com, and improved the overall level of JD.com's industry. At the same time, it also provides an intelligent, efficient and direct two-way docking platform for the traditional large-scale manufacturing industry to actively embrace the Internet, practice digital upgrades, and establish a digital marketing system that seamlessly connects with customers.
In the next step, XGMA will build an ecosystem that combines online shopping and offline services, and do a good job in the online release, display, and sales of the full range of XGMA products. Work with services to provide a faster, more comfortable and better car purchase and car experience for the majority of construction machinery users.
At the same time, XGMA will strengthen its strategic cooperation with JD.com, take the fast track of the development of the digital economy, fully converge its own resource advantages, connect direct sales, distribution, and users, covering online and offline, to achieve The strategic layout of the omni-channel dimension has helped XGMA achieve a gorgeous turn of "second entrepreneurship".